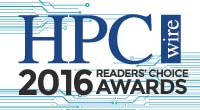 Auto Research Center has been nominated for an HPC Readers' Choice Award in the Best Use of HPC in the Cloud category. Auto Research Center is using Advanced Clustering Technologies' ACTnowHPC cluster in the cloud to supplement its in-house HPC datacenter.
Auto Research Center found that the key benefits to working in the ACTnowHPCcloud are in the job execution speed, access to RAM, HPC support and maintenance. "Run times were up to 20% faster than our resources," said ARC Director of Analytics Jean-Michel Esclaferde La Rode. "File transfer times were not of concern. The overall customer experience is pleasant, and support response times are relatively fast compared to other clouds."
Auto Research Center, LLC uses testing devices such as wind tunnel, CFD Elements software, a seven post rig and a drive train test rig to provide analysis for customers that include professional automotive racing teams, automotive manufacturers, delivery vehicle manufacturers, and heavy duty truck and trailer manufacturers.
The HPCwire Readers' Choice Awards are determined each year by HPCWire readers across the HPC community. The awards recognize the most outstanding individuals, organizations, products and technologies in the industry.
Click here to cast your votes for the HPCWire Readers' Choice Awards. Only subscribed HPCwire newsletter readers are eligible for participation.